When I first got my iPad delivered, I couldn't get my hands off of it
Watching videos, playing games, surfing the web and following yoga instructors via YouTube on my sofa was a lot of fun. I love baking brownies, so I googled a new recipe and started to gather ingredients in the kitchen. I wanted to follow the instructions on the go and have my iPad in sight while baking. There's not much space in my kitchen, so I ended up leaning it against the wall on the counter top. Halfway through the process, I toppled the olive oil bottle, which hit my iPad and left a big nasty crack on the display.
"That's it! There must be a better way!…"
… I thought to myself. Why can't I have a flexible tablet stand that holds my iPad safely wherever I need it to be and frees my hands when I watch stuff? I spent a few hours that same night browsing for iPad stands.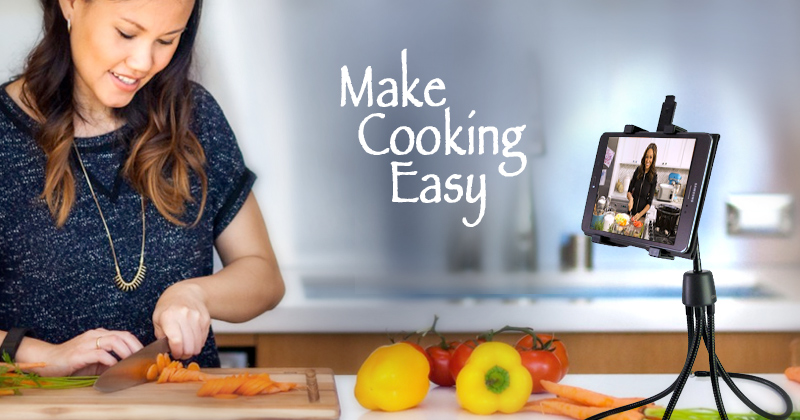 Guess what – these tablet stands do exist. Most of them are designed for one application only. They are made to just be a tablet floor stand, a table top stand or bed iPad stand. I wanted a one-size-fits-all solution so I don't have to buy several different stands for each situation. And bingo – found it! The Lxory FourFlexx does it all!
Eventually, I wanted to get my hands back and let a tablet stand do the job
I love the goose-neck-legs concept. These legs are easily removable – I can use just two legs . They are also adjustable to almost any height and shape. For example, I have an exercise bar next to where I cook. So my brownie session setup looks like this: I simply let the iPad holder hang down from the exercise bar.
The FourFlexx iPad Stand keeps me creative
The FourFlexx keeps my creativity going. I find new applications almost every day. Watching movies while taking a bath, keeping my two year old entertained by placing it right next to his crib, using it as a music stand when I pick up my violin. Attaching it to the car seat and letting the kids watch cartoons. And if I want to, I can attach my Phone to one of the legs by using the included phone holder. A truly versatile tablet stand.

Customer Reviews
This is really cool and so easy to use
I purchased this universal tablet and telephone holder for myself. Lately I have been having a lot of pain in my arms and holding the phone or iPad for any period of time is getting to be painful.This was very easy to put together and took less than a minute to have it all done. I really like the quality of this it is very thick and easy to bend but firm enough to hold its position well without moving …
Love my new tablet stand i am soo happy with it
I have been looking for the right iPad stand for me but i never quite find what I'm looking for. Well finally i have and I'm very impressed. It holds all my tablets and phone perfectly. I have tried it on the floor, the chair and countertops. It has so many uses for it. All the stands are flexible and provides great positions for your tablet …
"Flexible in more ways than one"
…I am very pleased with how fast I am able to change the height and position of this stand while maintaining great stability. It really takes perhaps 15 seconds to prepare adequately and 15 seconds to put away. You can spend a little more time if you want to make it look like a piece of art though, since it can look pretty neat if you bend the legs in the right way…

[tcb-script type="text/javascript"]amzn_assoc_placement = "adunit0";amzn_assoc_tracking_id = "xs2post-20";amzn_assoc_ad_mode = "search";amzn_assoc_ad_type = "smart";amzn_assoc_marketplace = "amazon";amzn_assoc_region = "US";amzn_assoc_default_search_phrase = "tablet holder";amzn_assoc_default_category = "All";amzn_assoc_linkid = "878b4d03e02596337f08b8ddd451f8d3";amzn_assoc_search_bar = "true";amzn_assoc_search_bar_position = "top";amzn_assoc_title = "Shop Related Products";[/tcb-script][tcb-script src="//z-na.amazon-adsystem.com/widgets/onejs?MarketPlace=US"][/tcb-script]
Tablet Holder Features:
iPad floor stand

compatible with all 7 to 13 inch Tablets

(iPad, iPad Mini, Acer Iconia, Samsung Galaxy, Google Nexus 7, Kindle, Kindle Fire, Sony eReader, Nook, Kobo, Windows Surface and others)

Phone holder included:

One of the four legs of the tablet holder can be turned into a phone holder so that you can position your phone right next to your tablet and never miss a call

Fully adjustable

: Your tablet can be positioned at any height between 16" and 30" from the floor by adjusting the four flexible gooseneck-legs of the iPad stand
Ball-joint connected gooseneck iPad mount allows you to

rotate the iPad holder 360°

This

truly universal tablet stand

can be used as a iPad floor stand, table top stand, iPad kitchen stand, music stand, iPad stand for bed. It can even be attached to sofa armrests and car seats
Video Reviews
My FourFlexx universal iPad stand became a part of our household very quickly. I think of it as a pet sometimes and call it "Flexy". Silly but it does have four legs and a head after all! I bought a second one so that I can leave one sitting on the sofa armrest. The second one I use with two legs for table tops and use in the kitchen.

[tcb-script type="text/javascript"]amzn_assoc_placement = "adunit0";amzn_assoc_tracking_id = "xs2post-20";amzn_assoc_ad_mode = "search";amzn_assoc_ad_type = "smart";amzn_assoc_marketplace = "amazon";amzn_assoc_region = "US";amzn_assoc_default_search_phrase = "tablet holder";amzn_assoc_default_category = "All";amzn_assoc_linkid = "878b4d03e02596337f08b8ddd451f8d3";amzn_assoc_search_bar = "true";amzn_assoc_search_bar_position = "top";amzn_assoc_title = "Shop Related Products";[/tcb-script][tcb-script src="//z-na.amazon-adsystem.com/widgets/onejs?MarketPlace=US"][/tcb-script]