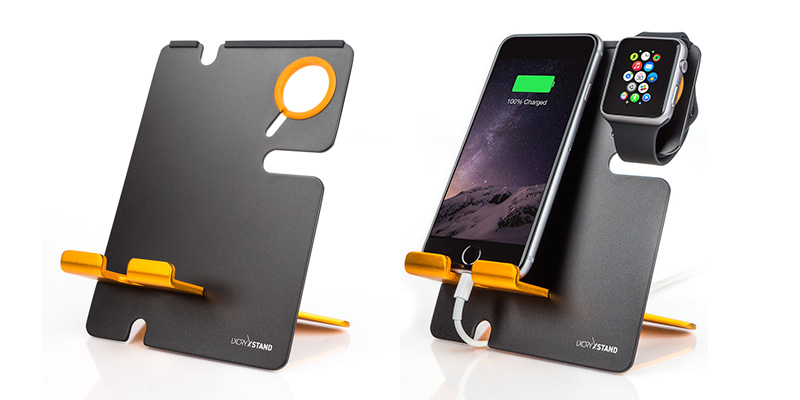 This remarkable Apple Watch and iPhone dock will help you reduce clutter and elegantly display your favorite devices
You've had a long day. You're getting ready to climb into bed and you need to charge your iPhone and Apple Watch. You reach for your charging cable, but you can't find it. The cord has fallen behind the nightstand again. So you have to strain and stretch to find the darn thing.Then, when you do finally plug in your devices, the whole setup just looks ugly. Electronics strewn about on a nightstand, cords hanging off everywhere. It looks like the exact opposite of Apple's sophisticated, streamlined designs.
What Gives?
You spend all day using these beautiful devices, but when you get home, they just sit flat on a table. They don't look like they should be there. They look like additional clutter that you don't need or want in your life.Wouldn't it be nice if there was a product out there that could conveniently hold your charging cords in place while beautifully and effectively displaying your phone and Watch?
Before:
After: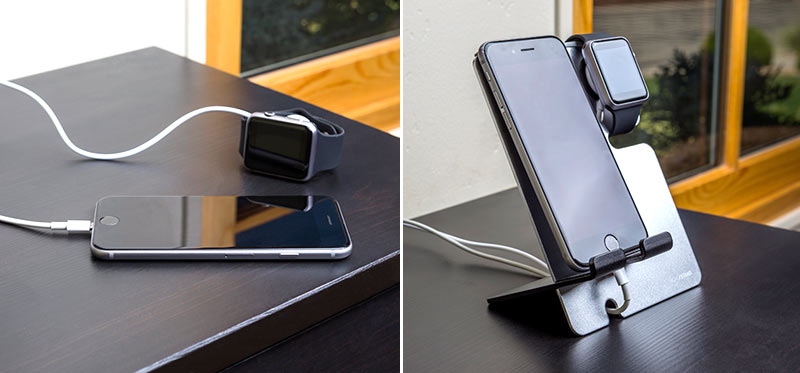 Enter the XStand – Protect Your Gear & Eliminate Clutter
The two most important devices you own are your iPhone and your Apple Watch. One of them is literally strapped to you all day. The other is in your pocket, your bag, your hand or sitting in front of you on a desk or table all day. You have invested hundreds of dollars in your personal technology, so why don't you have a proper place to display your devices when you are sleeping or working?
Made by LXORY, the XStand is an innovative 2-in-1 Apple Watch and iPhone dock that combines sleek modern design with tremendous functionality. With the XStand, you'll never have to wonder where your phone or Watch is when you wake up, because your devices will be elegantly displayed together on your nightstand.
The XStand also looks great and works perfectly on your desk.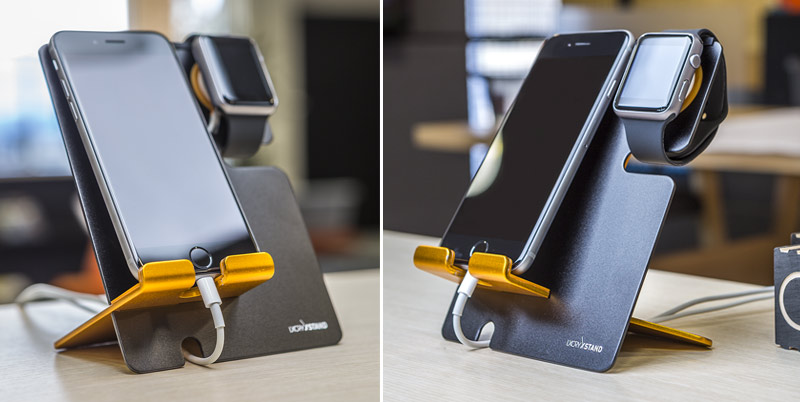 The XStand cleverly integrates cord management. You won't have those white cords stuck behind your nightstand or under your desk. Instead, the XStand securely holds your cords for when you need them.For your Watch, the XStand seamlessly integrates with Apple's MagSafe charging technology. Your Watch will sit snugly and happily in the innovative padded holder.
You CAN Take It With You
Perfect for travelers, the XStand Apple Watch and iPhone dock easily disassembles in seconds so that you can lay it flat and take it with you. You can pop it into your bag before you leave for the office, or you can slip it into your carry-on or toiletry bag for travel. While on the road, you can use your XStand as a massive upgrade over the standard hotel alarm clock radio.
Here's what the XStand offers that you won't find from any other Apple Watch or iPhone stand:
Unique 2-in-1 stand

combines modern design with unparalleled functionality and convenience
Don't worry about protection – the

padded holder

will safely secure both your Apple Watch and smartphone
Easy to use – the XStand

assembles and disassembles in mere seconds

without any screws or tools needed
Keep it tidy –

integrated cord management

keeps your desk or nightstand neat and uncluttered – no more messy white cords all over the place
Well-traveled – ingenious collapsible design is

perfect for frequent travelers

– you can take the XStand with you wherever you go

Customizable

– includes 2 sets of colored padded rubber strips (black and orange) to allow you to customize the XStand Apple Watch and iPhone dock to fit your personal style.
Bulky phone case? No problem. Unlike other inferior products, the XStand holds your iPhone

without having to remove it from the case

. What's the point of having a stand if it is not functional?
Go Wireless!
The XStand can easily be upgraded to a Wireless Charging Stand with our Wireless iPhone Charger Set. So that you don't have to bother plugging your lightning cable in and out every time you want to charge your phone.
Like Choosing Your Color? Now You Can!
When we first launched the XStand, black-orange seemed to be the most elegant color combination to us. It has been used by iconic design brands like Brown, Nike, Bugatti and Lamborghini. But hey – different strokes for different folks. So here you go. Now we have black-black, silver-black and silver-orange too.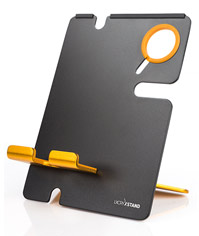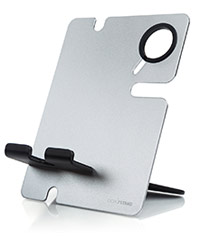 Customers Have Flipped Out Over This Apple Watch and iPhone Dock
Currently, the LXORY XStand has over 70% 5-star reviews on Amazon.com and over 80% 5-star reviews on Amazon.de. Here's what customers are saying:
5/5 stars "Great quality and perfect watch stand."5/5 stars "You'll never need another phone stand."5/5 stars "This dock is so cool. If you have a phone and a Apple watch it's perfect."5/5 stars "A well designed and functional stand for your Apple Watch/iPhone. I have purchased and tried out several Apple Watch charging stands and I will say that this one is my favorite to date. It holds my Apple Watch Sport securely and allows it to make good contact with the white charging puck. I also like the fact that it has a built in stand for you iPhone as well. I have the iPhone 6 Plus and it's in a rather large battery case and this stand holds it securely and with room to spare. If you looking for a nice charging stand for your Apple Watch, look no further."
Unboxing The XStand
Here is a Video-Review by Carlos Vega: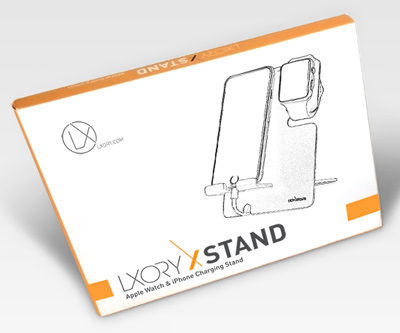 Looking For a Gift Idea?
We not only care about our products but also about their packaging.
The XStand comes in a beautiful box that makes a great gift for anyone who cares about attention to detail.Surprise your friends and family with a present they never expected. It will outlive the great first impression and become a valued part of their every-day life.
Don't Sweat It – XStand's Hassle-Free Guarantee
As with all LXORY products, the XStand 2-in-1 Apple Watch & iPhone Dock comes with a full 30-day, 100% no-risk money-back guarantee.
So, if you're sick of having your Apple charging cords everywhere, and you want a sleek, modern solution to display your devices, head over to Amazon and order your own XStand Apple Watch and iPhone Dock now!